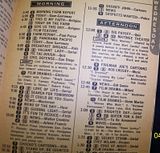 When you click the image, you'll see a 1956 TV Guide listing...I took a picture of the inside of one of my TV Guide's. It's the only issue I have from the 1950's and I figured I'd share a piece of the daytime line-up back then. As most soap fans know, many soap opera's ran just 15 minutes back then. This will also serve as a visual lesson in simplicity...notice how few channels there were. The fewer the channels the lesser the competition. "Guiding Light" aired from 9:45 until 10am. Looking on, "Search For Tomorrow" aired before GL and Walter Cronkite's news report aired after GL. At 10:30am, as you'll see in the second picture, "As The World Turns" was on. It ran during the 10:30-11am slot, a 30 minute serial, uncommon in those days. This being from a 1956 issue of TV Guide, it's interesting to note that the soap debuted that very same year...along with
another
30 minute soap, "The Edge of Night". These two soaps were both 30 minutes in length.
Incidentally, "Guiding Light" would not expand from 15 to 30 minutes until twelve years later, 1968.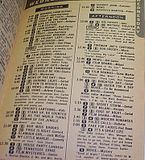 In this particular picture, it's the same daytime schedule but it offers a bit more of the bottom part of the page...it's image is a bit grainy/blurry compared to the other picture. I wanted to give an over-view of a typical daytime schedule in 1956. Again, that's my only issue of TV Guide from the 1950's.
The soaps took a little break and picked back up in the afternoon...at 1pm. "A Brighter Day", "Secret Storm", and "The Edge of Night" aired back to back to back during the 1pm-2pm hour.
I did some research on "The Edge of Night" and learned that it is one of the examples of a soap that had a long run on one network, was canceled, and then was picked up by another major network and ran for an additional nine years...so it isn't unheard of for soaps to hop to another network after cancellation. It isn't the normal kind of thing...but it isn't unprecedented, either. "Edge of Night" ran on CBS of all networks from 1956 to 1975 and then moved to ABC and it aired from 1975 until 1984...bringing the soap's over-all total to 28 years. One of the alumni from "Edge of Night" in it's ABC years was Larkin Malloy, who would become famous among "Guiding Light" fans as Kyle Sampson during the mid 1980's. Several others with a connection to "Edge of Night" have ties with "Guiding Light" too. Barbara Berjer, the actress who portrayed Barbara Norris on GL for 10 years had ties to "Edge of Night". Millette Alexander, GL's long-running actress in the role of Sara McIntyre, appeared on "Edge of Night" as well. Barbara and Millette both had lengthy stays on "As The World Turns" as well prior to their GL roles.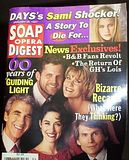 This issue of Soap Opera Digest hit the shelves in 1997 when GL turned 60. On the cover were the characters of Roger, Dinah, Phillip, Josh, and Reva. Phillip had just recently returned to town after spending several years in prison for a crime he was set up for. Dinah became one of Roger's love interests and eventual wife but she soon left him for his son, Hart. Josh and Reva are the show's super-couple...in and out of love since her arrival in town in 1983. There were other magazines published that week celebrating the show's anniversary. Soap Opera Weekly had a multi-page write-up, including a time-line and other information. There was also publicity in a few lesser-known soap publications...and a hard-cover coffee table book detailing the show's 60 year run in exhaustive detail. The 50th Anniversary book from 1987 is a great read and portable...you can carry it around and read it on the go or wherever you'd like but the 60th Anniversary book has much more detail...lots and lots of pictures...complete sections devoted to the core families of the show in 1997: Bauer, Spaulding, Lewis, and Cooper families.
As for the future of "Guiding Light", there's still hope that another network will become the show's savior once CBS removes it from their line-up. "Edge of Night" was the only long success for a soap that switched networks, racking up nine more years on ABC after being canceled by CBS. "Search For Tomorrow" went through a similar crisis but it didn't have quite that long of a second life when it switched networks. "Search for Tomorrow" ran 35 years, 1951-1986. It was never expanded to an hour...it was a 15 minute soap from 1951 through 1968. Afterward it expanded to half an hour and stayed a 30 minute soap for the rest of it's run. CBS aired the show for 31 years, 1951-1982...the rest of it's life was on NBC...airing it's final episode the day after Christmas in 1986. Mary Stuart and Larry Haines were the central figures...they were on the show for it's entire run playing the roles of Joanne Gardner and Stu Bergman. A third cast-member, Melba Rae, played the role of Stu's wife, Marge, for the show's first 20 years before passing away unexpectedly in 1971.

Mary Stuart would appear on GL in 1996 playing the part of Meta Bauer...a character that had last been seen in 1974. She was on the program in a recurring basis...appearing off and on for six years. She taped her last scenes in February 2002, a few days before her death.
In another entry into the GL Hall of Longevity we have Jay Hammer. He played the Springfield Journal reporter, Fletcher Reade, for 14 years: 1984-1998. His earlier time on the show centered around his love-life...a triangle of sorts. He fell in love with Hillary Bauer but she was in love with Jim Reardon. Claire Ramsey, one of the nurses at Cedars, became Fletcher's love interest in spite of her rough exterior. Claire also had eyes for Jim Reardon but his eyes were drawn toward Hillary. Fletcher was introduced as a reporter investigating a plague-like disease known as the Dreaming Death in San Rios. Coincidentally he worked for the Springfield Journal and so when they wrapped up their San Rios work, he accompanied everyone back home. Later, he became wrapped up in the Barbados story which introduced Brandon Spaulding's secret life and second family. In 1985 Fletcher flew off to Beirut and Claire followed him. Ed and Maureen soon followed the pair after Claire made a phone call asking for help in finding Fletcher. Ed and Claire went on a search for Fletcher as Maureen stayed behind in a hotel while a reporter, mistaking Maureen for Claire, led her to Fletcher.
During a bombing raid, each couple thought the other were killed...Fletcher and Maureen mourned over Ed and Claire, while in another part of the country, Ed and Claire turned to each other...things became passionate when a dazed and confused Ed mistook Claire for Maureen in the darkness and one thing led to another. Claire never fought it...enjoying every second of it...in the daylight Ed realized what he had done and several hours later they were reunited with Maureen and Fletcher. Claire became pregnant...and Ed was revealed to be the father. This bit of news, along with his separation with Maureen, sent Ed into a drinking binge...alcohol hadn't been in Ed's life for a number of years...almost ten...he eventually stopped his drinking right around the time Claire was due to give birth. The baby arrived months later and she was named Michelle.
Meanwhile, Fletcher and Claire drifted apart not long afterward. He became instrumental in helping Ed clear his name later in 1985. A murder had happened at Cedars Hospital and Ed became a suspect in the death of Charlotte Wheaton. In reality, Ed was framed because the real culprit was Alicia Rhomer, who turned out to be Charlotte's own sister. Fletcher investigated Charlotte's past and put the pieces together and helped clear Ed and Claire from suspicion. Afterward, he became close to Maeve Stoddard. She had a secret...she once had a baby with Kyle Sampson and the baby's name was Ben. Fletcher and Maeve began to date and they got engaged. The two married in 1988 but she died in a helicopter crash soon afterward and he wanted custody of her son, Ben. Maeve's mother, Julia, had other plans and the two fought a custody battle...eventually Fletcher was able to adopt Ben, and the character faded from the front-burner...appearing every so often during holiday get together's.
Fletcher found himself falling for Alexandra Spaulding of all people around this time. He was part of the rescue team that shown up in Venezuela to save Alan, Josh, and Reva from the murderous Will Jeffries. Fletcher and Alex flew off together once the story wrapped up and they crashed onto a remote island...they were stranded for a period of days until a wind storm separated the two. A masked man lurking on the island made it possible for Fletcher to leave...convincing him the woman he was with was dead. After Fletcher made his way back to Springfield it was months before Alexandra was rescued. Her masked friend, Adam Malik, turned out to be Roger Thorpe. Alexandra had fell in love with Adam/Roger after spending all of those months with him on the island and they eventually married after she arrived back in Springfield.
Fletcher eventually became close to Vanessa Chamberlain and he helped her fight Jack Kiley, a businessman who attempted to rape her. Billy Lewis, her ex-husband, hatched a plan to trick Jack into confessing by staging a party in his honor. While there, the tables were turned and Jack was taken into custody and Vanessa began to grow close to Billy again, which Fletcher could sense. Next, he grew close to Holly. Her life was almost always tangled up with Roger Thorpe...but Fletcher was persistent and the two of them were married, infuriating Roger in the process, he had felt that he and Holly were close to getting re-married when she all of the sudden turned to Fletcher. Holly and Fletcher had a daughter together, Meg, who was born with Down's Syndrome. After a few months of bliss, the marriage crumbled mainly due to Fletcher's insecurities and all out bitterness and anger over Roger's involvement in Holly's life. Due to her consistent argument that Roger will always be a part of her life because they share a daughter together, Fletcher had had enough. He took her behavior toward Roger as a sign that she was still obsessed and in love with him, something she constantly denied. Nevertheless, Fletcher emotionally flipped out while Holly was in a different part of the house and he gathered up Meg one day and fled the country...telling nobody of his whereabouts.
Fletcher made a brief return in 1999 to tie up loose ends. It looked like he and Holly were going to pair-up again but revelations and secrets drove the two apart for good and he took Meg with him, at Holly's insistence, and hadn't been seen since.
His adopted son, Ben, became a focal point of the program during the middle part of this decade...turning out to be a complete opposite of his respected adoptive father. Ben was soon linked to a series of teenage murders...his affections were often directed at Marah Lewis, or, Marina Cooper. After a period of years attempting to win the affections of whatever woman he had his eye's on, he flipped out and abducted Marina and held her hostage. Her father, Frank, was on hand helping to rescue her. Ben committed suicide after attempting to murder Shayne Lewis. This concludes part three of my GL blog entries.