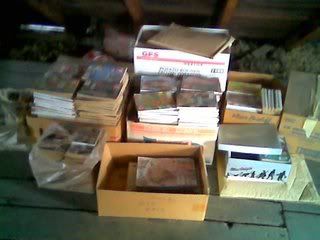 I have a somewhat modest collection of TV Guide. The issues you see in the above picture are sitting up in my grandparent's attic. I especially like the way the pages have aged...it gives them that "old" look. I ran out of place to store them in my bedroom over there and so I boxed and sacked up a lot of them and put them up in the attic. I have issues that date back to the mid 1970's and some from the 1980's that I bought on-line at auction sites and some i've bought at flea markets off-line but the bulk of my modest collection starts up in 1991...from that point forward I have just about every issue up through 2005/2006...14 to 15 years worth of TV Guide. I wish I had more older issues, though...but I'm happy with what older issues I do have from the '70s and '80s.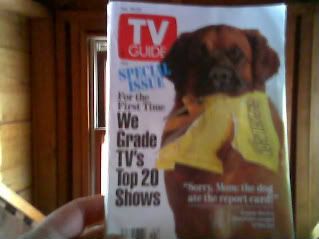 The above issue is from June 1992, seventeen years ago. The dog was a cast-member of the TV show,
Empty Nest
, which was in it's fourth season at the time. The dog's stage name was Dreyfuss. I have a lot of issues that are not in the attic and are kept on a shelf in my bedroom at my grandparent's house...those issues are ones that I bought on-line...quite a few from the late 1970's on through the mid 1980's.
I have plenty of famed issues featuring the cast-members of
Dallas
and
Dynasty
. I'll snap some pictures with my digital camera the next time I'm over there browsing through my collection. These pictures were taken with my cell-phone...so they're not as sharp. I'm still a collector, but I'm not that much of a buyer anymore...
One of the reasons that I stopped buying them is that they changed appearance and they gone from a small compact magazine to a big and bulky magazine. There's just nothing eye catching, either, about modern TV Guide. Another reason for this slow-down in TV Guide purchasing from me came about in 2006...I stopped buying it because I didn't need to. The modern television set comes equipped with features where you can look at a program guide on your TV with just a push of a button on your remote control. Another factor that caused me to stop buying TV Guide were those multiple cover issues. Each week, it seemed, there were campaigns from the magazine asking consumers to buy 3 or 4 of the same issue as part of a "collector's set". At first I went along with the idea but it became more and more ordinary...what with every other week or so having a multiple cover set being issued. It was fun in the beginning, for me at least, but then they over-did it with too many collector's series issues...reaping the rewards from collector's who'd buy the entire set of issue's...I, for one, wasn't a collector in that sense and so it always bothered me whenever an issue of the magazine was being called a collector's edition long before it earned that distinction over the course of time...what I mean is...
A lot of the reason why so many TV Guide's from the '50's and '60s and even '70s are typically the most sought is because there wasn't a mentality back then that someday in the future there will be people willing to pay $5.00 and more for an issue of TV Guide from the '50s and '60s...some issues going for over $20.00. So, because of the rarity of those issues when people would just throw their TV Guide away when the week was over, is why they are typically sold for a higher price because of the limited availability and this, in my opinion, is why those issues have earned the right to be called collector's items over the course of time. If suddenly an issue of TV Guide from 1986 became highly sought after it would match or beat the asking price of an issue from the 1960's based upon demand.
This all of the sudden sensation is why a 1990 TV Guide shouldn't be dismissed as worthless because you never know when an issue or a celebrity is going to create some sort of nostalgic sensation and boost the price of something you may have in your collection. You never know if a TV program from the 1990's will garner nostalgic feelings but yet if you have 1990's era TV Guide's you'll have some issues worth something to someone at some point.
The novelty, hobby, or fad, whichever adjective one chooses to describe it, of collecting TV Guide reached the mainstream when an episode of
Seinfeld
addressed the little-known hobby of collecting TV Guide.
I feel the episode is what raised awareness to the idea that TV Guide's have some value depending on who's on the cover, the issue date, the area of the country it was published, the overall condition, etc. On the Seinfeld program the hobby was satirized but it created an awareness. A lot of people who collected TV Guide or knew of people who collected TV Guide were validated and their "strange little hobby", as it was perhaps described by family and friends of a TV Guide collector, was the focal point of an episode of one of television's popular programs.
A lot of collector's came out of the woodwork and sellers in the flea market business began to covet TV Guides and raise or base their prices on what a collector would pay. Today you can find large quantities of TV Guide for sale on-line...some issues going back to the 1950's and 1960's...so somewhere out there people were collecting even back then...but the bulk of the collector's usually have more of a generational collection to start off with, like myself. I have way more issues from the 1990's simply because that is when I began to collect them. If this were 1982 and someone were to have collected the magazine since the 1970's then they would have way more issues from the previous decade...common sense, of course.
Then, soon after, I feel the magazine started to take advantage of this "collector's" aspect and they started issuing those multiple covers.
Star Trek
was among the TV shows that got the multiple cover treatment. Multiple cover means there were three or four different covers for sale of the same issue...for example, on the news stands there would sit three issues of TV Guide for the week with three different cast-members from the show gracing an individual cover.
Each cover would have a numerical "collector's edition" seal. This sort of gimmick capitalized on the hobby and exploited it. I was never a hard-core collector so I never bought three of the same issues just for the three different covers. I would often pick which TV Guide cover appealed to me the most. Whenever there happened to be a multiple issue week of
Star Trek
I'd choose the cover I liked...instead of grabbing up each one in a set.
Click the below picture for an example of the collector's series concept...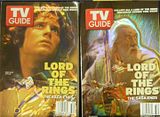 This time, the multiple cover featured the movie
Lord of the Rings
and as you can see on the top right of each issue it states "Collect All Four Lord of the Rings Hologram Covers This Week". What this means is, you'd be buying the same issue with the only difference being who appears on the cover. It worked, though, because the devout collector's bought the set...and TV Guide was pushing close to $2.00 an issue by then.
So, anyway, as I mentioned earlier, I'm still a collector. I'm always on the look-out for vintage issues of the magazine but I don't buy the modern-day version because of it's changes in appearance.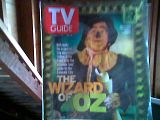 I forgot to take note of the issue date on the above issue. It was among the collection and I grabbed it up for a quick picture. I believe it was one of the multiple covers of TV Guide featuring a different cast-member of
The Wizard of Oz
and I chose the one with the Scarecrow.
I completely understand why collector's buy the multiple covers...it's because at some point they'll have value, especially when you have all participating issues in a set.