Hee-Haw was one of my favorite television programs and it had a long, successful run before ending production in 1992. The program is rather polarizing because you can have millions of people praising the show and then you could have just as many wondering why the show was a success. This sort of fever-pitch for or against runs rampant today as it did when the program was on the air. Hee-Haw came along in 1969 as a replacement show. CBS-TV replaced The Smothers Brothers Show with Hee-Haw and right from the start there was a reaction, both pro and con. The series did so well that it became a weekly series. The production cycle of the show was rather unique...it would tape all of it's content in bits and pieces and the editing department would piece the shows together. The music numbers for the season were all taped in one taping session...the comedy skits were all performed in one session..and so forth. It took usually two months in the summer to record material for a season's worth of shows...and then in the fall everyone returned to tape material for the following season, that's how well-oiled the show's production unit was, but when the sessions were completed the editors would piece together one episode at a time.
As you can see from that early cast-member shot, Roy Clark and Buck Owens were the co-hosts. The rest of the people were cast-members ranging from comics to members of back-up groups on the show. It was a country version of
Laugh-In
with a high emphasis on cornball humor and rural situations...but unlike
Laugh-In
,
Hee-Haw
would feature two or three guest stars each episode performing country music. As the show became an enormous hit, a typical episode would have at least 5 guests and even guest stars from other TV shows that stopped by...people who had nothing to do with country music dropped in from time to time.
The series gained a loyal audience during the 1969-1970 seasons but trouble was brewing behind the scenes at CBS. They wanted their network to be a place for youthful programs...entertainment that had a topical feel almost. CBS was at the time the home to a lot of country and rural programs that pulled in monster ratings but the age group that the shows were pulling in were not what CBS or mainstream advertisers were wanting. After the 1970-1971 season, CBS made the decision to rid it's line-up of all of the country shows currently in production:
Green Acres, Beverly Hillbillies, Mayberry RFD
, and
Hee-Haw
are the stand-out programs. On another network, Lawrence Welk's long-running TV series came to an end in 1971 for much of the same demographic reasons the country shows faced. Red Skelton, a long time fixture on TV since 1951, saw his series come to an end in 1971 as well.
Skelton would continue appearing on TV and do personal appearances for decades after his show ended. Lawrence Welk and his company went into first-run syndication as did
Hee-Haw
. The decision had been made to continue the show off-network...with local affiliates airing the program usually in it's same time-slot, Saturday night at 7pm, Eastern Time, 6pm in Nashville. Viewers, of course, had no idea that the show was not on the network anymore...for them, the show was airing just as before.
Lawrence Welk's show often ran in competition with Hee-Haw and in some places they aired back-to-back...from one extreme musical taste to the next. A lot of cast in the early days on CBS were not on hand when the show moved into first-run syndication...the show hit it's core line-up fairly early and with the additions of a few more key players the cast would remain intact for the next 10 years or so. Among the most celebrated of the Hee-Haw cast were the following cast-members:
1. Archie Campbell: He was credited with being one of the show's main writers, typically writing the material for himself and others in the skits in which he was the star. Archie was also noted as a painter plus he was a member of the Grand Ole Opry. He died in 1987, working on Hee-Haw from 1969 right up through 1987. Archie starred in several skits with "Doc Campbell" being one of the most popular due to it co-starring Gunilla Hutton as Nurse Goodbody. There was also a long running skit with him as a barber and another one with him as a judge...in addition to this, Archie often introduced the serious segment at the end of the show, the Hee-Haw gospel quartet.
2. Junior Samples: This cast-member became notorious for bloopers and reading his cue-cards wrong because he couldn't pronounce a lot of the words that the writers would purposely have on the cue cards. Dick Clark once commented that Hee-Haw's deliberate airing of bloopers was years ahead of the blooper craze of the late 1970's when it seemed every network aired their own blooper specials. There was a time when he stopped messing up his lines because he genuinely wanted to be taken seriously...according to the show's producer, Sam Lovullo, once Junior saw episodes of the show with a serious display of himself he went back to messing up his lines because it was funnier. His long running skit involved him playing a car salesman, often with Misty Rowe as his assistant. He was also in the Culhanes skit as well. Junior passed away in 1983.
3. Gordie Tapp: This comedian came down from Canada, as did the show's creators, John Aylesworth and Frank Peppiatt. Gordie was like Archie when it came to writing. Gordie wrote pretty much his own material...his most popular contribution to the show was a domestic skit featuring a married couple who lived in a dump. The Naggers were exactly that...they both nagged at each other. Gordie played long-suffering husband, Laverne, who looked like he hadn't had a bath in weeks while Roni Stoneman played the wife, Ida Lee, who wore rags in her hair and was typically threatening to hit her husband with a rolling pin or an iron. Aside from this, Gordie was also in the skit that took place in a general store, often cast opposite Gailord Sartain. Also, Gordie was popular as the southern Colonel...whose spoiled daughter was played on the show by Marianne Rogers.
4. Grandpa Jones: This cast-member, like Archie Campbell, had a long career on radio and records and was also a member of the Grand Ole Opry. Grandpa, played by Louis Jones, was in his 20's when he started playing the Grandpa character. He often told the story of how a man in radio gave him the name of Grandpa because his voice during his early years sounded much older. So, Louis started dressing up as an old man with tiny reading glasses, a fake mustache, and older-style clothes...years later he joked that he doesn't need any make-up to play the part now. Grandpa Jones was a part of the Hee-Haw gospel quartet and he played in the Culhanes skit. He was often seen in the barbershop and was one of the drunks in the Moonshiner's skit. He was also in the "Gloom, Despair, and Agony" sing-a-long's as well. His most popular skit in which he was the star was the "What's For Supper?" routine where he'd be asked what's for supper and he'd recite something in rhyme. Often he'd be greeted with a YUM-YUM but on occasion if he didn't have much to offer, the response would be YUCK! Grandpa is a member of the Country Music Hall of Fame. He was on the show from the start until the end. He passed away in 1998 at the age of 84.
5. Don Harron: This cast-member came down from Canada and isn't remembered much by his actual name...but mention the character he played on Hee-Haw and you will no doubt get smiles. Don played newscaster Charlie Farqheson...who wore a beat-up grey sweater and flat cap...tiny reading glasses...and a four day beard. He'd deliver the news from KORN which was set inside a chicken coop...with bright orange egg crates decorating the place. His routine was to make commentary about a local news item and then he'd start to ramble and garble a lot of his phrases. A lot of the times he'd deliver "on-air" assessments of the news he was covering and say things that were so far off the wall that you could hear actual stage-hands laughing...sometimes he'd come really close to breaking up but he'd compose himself and continue on reading the nonsense. He'd end each "broadcast" by running his finger across his neck, sign language for "cut!". Don has hosted interview shows in Canada, as himself, in addition to appearing as his Hee-Haw character. He is still active to this day.
In addition to those five there was also the presence of Minnie Pearl. She came to the show in 1970 and remained with the program until 1991. George Lindsey, ironically, became a cast-member in 1972. The reason it's ironic is because he was a cast-member of "
Mayberry RFD
", a show that was canceled in 1971 by CBS. George continued playing his Goober Pyle role and eventually had a skit created for him that was set in a car repair shop. George Lindsey was with the show until the end. Kenny Price came aboard in 1976 and he would remain with the show until his death in 1987.
At the time of
Hee-Haw
's biggest years, there were other country programs on TV as well. These programs were in syndication and aired on the weekends. Porter Wagoner's TV show was never in competition with
Hee-Haw
, but it was one of the biggest country music shows on the air during
Hee-Haw
's life-span.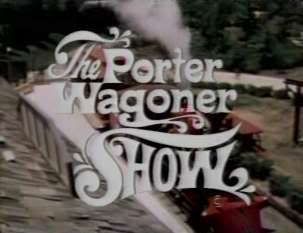 Another program that ran quite long was "
Pop! Goes the Country
" which Ralph Emery hosted for six years, before Tom T Hall took over during the show's last years. Ralph was at the helm from 1974-1980 and Tom T remained until 1982. Yet, another show that was very popular was "
Nashville On the Road
" which starred Jim Ed Brown and Jerry Clower. A lot of these syndicated country music shows were riding on the fame Hee-Haw had created with first-run syndication...by-passing the major networks. I'll pick up with part two of my
Hee-Haw
essay in a later blog entry.