Country music superstar George Strait first became noticed on the national scene in 1981...since then he has carved out a career that's certainly the envy of pretty much everyone in country music. The album you see here is his 1983 release,
"Right Or Wrong"
. When you think about it...so much has changed in country music during the last 5 years...but we're talking about the last 28 years when it comes to George Strait! The thing that many people bring up when they mention Strait is his consistency at the top...44 of his singles have claimed the #1 spot in Billboard magazine...another 13 claimed the #1 spot in other music charts...giving him an overall total of 57. If you take away the singles that topped the other charts and just go with the Billboard data he's still the artist with the most #1's. Conway Twitty back in 1986 had achieved his 40th #1 country single on Billboard, giving him the most #1 songs on the Billboard country charts. This accomplishment stood unbroken for 20 years...George had actually tied Conway's total at 40 #1 hits when the single "She Let Herself Go" hit #1 in late 2005...but it wouldn't be until Strait issued a single called "Give It Away" in 2006, a single that went on to become his 41st Billboard chart-topper that enabled him to move into first place and claim the most #1 country singles on Billboard.
George capped off 2006 when he was elected into the Country Music Hall of Fame and during the CMA Awards telecast he sang "Give It Away", his record breaking 41st #1 single. It was only the second time an artist actively on the radio and having major hit singles had been elected into the Hall of Fame...Eddy Arnold was the first.
Since that time he has returned to the top in Billboard three more times: "It Just Comes Natural" later in 2006, "I Saw God Today" in 2008, and "River of Love" in 2009. In addition to those #1 hits, he has placed three more in the Top-10: "Wrapped" hit #2 in the summer of 2007, "How 'Bout Them Cowgirls" hit #3 in the fall of 2007, and "Troubadour" hit #7 in the fall of 2008.
A duet with Kenny Chesney, "Shift Work", hit #2 in the spring of 2008...it was falling down the charts at the time George's solo single, "I Saw God Today", was climbing up the charts. "I Saw God Today" debuted on the charts at #19...giving Strait the highest debuting single of his career.
At the time of this writing Strait's current single,
"Living For the Night"
is speculated to become his 45th #1 on the Billboard chart. The likelihood of anyone tying or breaking George's #1 hit total won't happen for another 20 some years and in reality country artist's just aren't having the kind of enduring career's they once had. It took Conway something like 17 and a half years, 1968-1986, to rack up his 40 #1 hits while it took George close to 24 years, 1982-2006, give or take a month or two, to reach 41 #1 hits.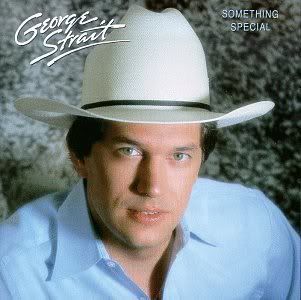 A lot of that difference is simply due to the times. In Conway's time the sales of singles were primary and their airplay was secondary...meaning that a lot of singles were pushed into the #1 slot based on how they were performing in the stores with lesser emphasis on how they were performing on the radio. You could have a single with low airplay reach #1 because the sales were strong...and Conway was very popular and he sold single upon single and their performance in stores influenced the radio stations.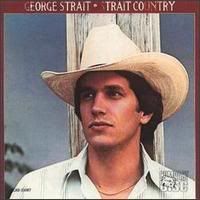 George, however, his career started on the national scene in 1981 when radio was still playing singles that were selling in the stores. Of course, because airplay was secondary, it wasn't significant in the success-failure of a single. If a single sold well it was guaranteed a Top-10 or #1 ranking. As time went by the chart policies changed gradually...throughout the mid 1980's there were no multi-week #1 hits. Every week there was a new #1. In the 1990's things changed even more...airplay started to become the primary factor in compiling the country chart and when this happened the songs started staying at #1 longer because they were being played more and more and the sales figures were not factored into the equation anymore.
And so with this change came longer stays at #1 by other artists...meaning that George would have to wait his turn at the top...and when it came his turn he, too, often remained at #1 for 2, 3, and some cases 4 weeks in a row...and over the course of time those weeks add up that by 2006 it had taken George 24 years to break Conway's record setting 40 #1 hits.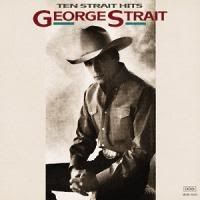 The reason why I went into all of that is hopefully to explain that it doesn't mean George is any less popular than Conway was because of how it took George longer to reach 41 #1 singles. I hope to convey that the reason it took George longer is because of the different chart policies in place now that weren't in place during Conway's time on the charts. I've often read that Conway was more popular because he scored 40 #1 hits in 17 years while it took George 24-25 years to do so. So, I hope my little history of chart policies enlightens some out there why it took George longer...it had nothing to do with Conway being more popular or whatever and everything to do with how the charts are compiled now. This is nothing against Conway Twitty, either...readers of my blog's will know that I'm as big a fan of Conway's as well. I'm just stating the facts about the chart policies and why it took George more years to reach 41 chart-toppers.
George is still cranking out the hit songs and hit albums...the latest single,
"Living For the Night"
, is already in the Top-30 and on it's way to being his 45th #1 single according to all of the predictions. It is the lead-off single from an upcoming album tentatively titled,
"Twang"
.
The ACM, Academy of Country Music, late in 2008 named George it's Artist of the Decade for the years 1998-2008. The award honored the artist who had the biggest impact and the most success during a 10 year period. The previous honoree's of this special award were:
Garth Brooks: 1998 recipient
Alabama: 1988 recipient
Loretta Lynn: 1979 recipient
Eddy Arnold: 1969 recipient
A special was taped in April 2009 and it aired a month later on CBS...it became the highest rated network program of the night. Given that George had been having hits since 1981 there were plenty of jokes about how "over-due" this type of an award was and Garth, who won the Artist of the Decade trophy for the 1990's, had to present the award to George since that's the policy. In 2019 George will have to present the 6th Artist of the Decade recipient at the ACM Awards.
In addition to all of this, his most recent album,
"Troubadour"
, was certified Platinum and this gives George a total of 33 albums that have been certified Platinum which puts him at #1 among country music singers and #3 among pop artists behind The Beatles and Elvis.
The hit singles you may be asking? He has racked up quite a few during the last 28 years...there has never been a period of down-time in his career. In a career that's lasted for so long you'd think that there'd be a period where his singles peaked in the Top-30 or Top-20 before rebounding back into the Top-10 but for George Strait he's never had that sort of occurrence. Except for a stray Top-20 finish here and there, pretty much everything he's released as a single has hit the Top-10...in fact, 80 singles have reached the Top-10 for Strait. His 80th, "River of Love", went all the way to #1. In the process it gave Strait his 44th #1 single. As far as Top-40 placings are concerned, "River of Love" was his 89th single to enter the Top-40 Country chart.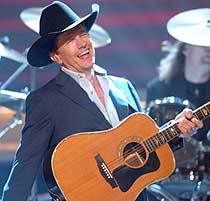 So, with "Living for the Night" on the Top-40 chart, this gives George Strait 90 Top-40 singles...hopefully it'll become his 81st Top-10 and 45th #1 single. George scoring his 90th entry on the Top-40 country chart puts him at #4 behind Johnny Cash, Eddy Arnold, and George Jones. His 80 Top-10 hits ranks him at #2 behind Eddy Arnold, who has 92. George Jones is #3 with 78 Top-10 hits.