"Hi-Yo!" was a familiar phrase heard for years on
The Tonight Show starring Johnny Carson
. Delivered by Ed McMahon, it became as synonymous with Ed as the greeting he delivered at the start of each episode bringing out Johnny Carson night after night/week after week/year after year for 30 years. Ed and Johnny's on-air partnership went further than the late-night show. Ed was Johnny's side-kick on the game show,
Do You Trust Your Wife
, later re-titled
Who Do You Trust
, for a number of years in the late 1950's prior to the two of them leaving that show to become a fixture on late-night TV.
I had always liked watching Ed whenever he'd appear on TV talk-shows and during the conversational moments on the
Tonight Show
when Ed sat on the couch or the chair and became involved in the Carnac skits, especially. As was the custom, Ed was the straight-man in the various comedy sketches that Johnny and company appeared in...
In the early years on through the middle period, specifically the mid to late '70s, Ed and Johnny performed in a lot of sketches. Carnac was the most popular and best-remembered but Ed was also on hand during a quirky sketch about a woman named Aunt Blabby who had a similar personality, almost, to Jonathan Winters character of Maudie Frickert. Carson appeared as Aunt Blabby and the concept of this skit was having Ed be an interviewer who would then proceed to bring up a lot of words synonymous with older people and death...causing Aunt Blabby to utter a one-liner or show some sign language with her cane...in the thumbnail image below we see a typical exchange between Ed and Johnny in an Aunt Blabby skit...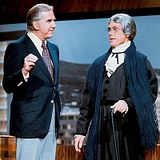 Ed and Johnny...bantering about day-to-day activities...late 1970's. Johnny passed away four years ago in 2005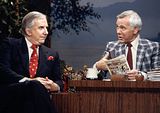 Ed, being the announcer, often did live commercials in the early days of the show and he became famous for his loud laughter...there'd be a skit going on and over the audience's laughter you'd hear Ed laughing in his distinct way. This distinct laugh became a running joke on the show and on other program's that spoofed Carson, most notably
Saturday Night Live
.
Throughout Ed's involvement on
The Tonight Show
, he branched out into other area's. In addition to being Carson's side-kick, Ed could be seen every year, starting in 1973, on the Jerry Lewis MDA Telethon each Labor Day weekend. McMahon became involved in the MDA behind-the-scenes as well and made what was his final appearance on the telethon last year...his 35th year as co-anchor of the telethon. You can visit the MDA web-site for pictures of Jerry Lewis and Ed McMahon.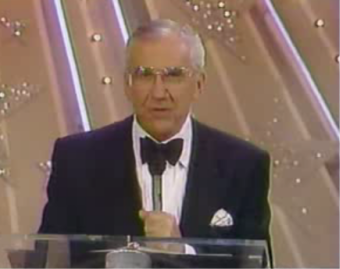 In the 1980's he became popular with an alternative audience probably too young to be viewers of
The Tonight Show
when he became host of the syndicated program,
Star Search
. In the picture above, Ed is host of a 1990 episode...and not much had changed appearance wise three years later...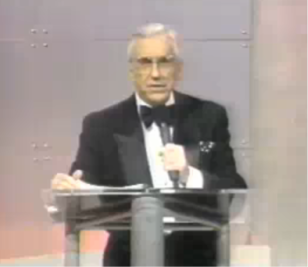 On the final episode of
The Tonight Show
in May 1992 Ed joked that Johnny should appear on
Star Search
if he yearns to be on TV again. Ed hosted the talent show program for 12 years, 1983-1995, it airing usually on Saturday or Sunday evenings or late-night. It pre-dated
American Idol
even though on
Star Search
home viewers didn't vote on the contestants...the studio audience voted in case there was a tie between the panel of judges. In the Championship series, the official judges were left out while the studio audience played judge. Several singers and groups and comedians went through the show on their way to fame. Notable: LeAnn Rimes, Drew Carey, Jenny Jones, Britney Spears, country group Sawyer Brown, Bill Engvall, Alanis Morissette, Jessisa Simpson, and on and on...
In addition to hosting
Star Search
, he and Dick Clark became synonymous with blooper programs. Originally, both Dick Clark and Ed McMahon hosted individual blooper programs in 1982-1983 but then they were paired together in one all-encompassing program in 1984.

The series that became
TV's Bloopers and Practical Jokes
came about as a series of specials in the early 1980's. A lot of networks jumped on the blooper bandwagon and soon a blooper craze was underway. The gimmick of the shows was seeing well-known actors and actresses messing up their lines on camera during rehearsal. The element that was missing in all of the copy-cat shows was the practical jokes...where a celebrity would be taped/filmed in either an embarrassing situation or in a situation that often resulted in a low-key actor becoming hostile. At just the right moment, the celebrity would be informed that they were being featured on
Bloopers and Practical Jokes
and it was all a joke. It was basically a
Candid Camera
kind of scenario. Each program consisted of recurring segments...one that I remember the most was a segment where an individual or a couple appear in disguise and audience members have to try and figure out who the mystery person happens to be. In one episode Don Adams and Barbara Feldon appeared in heavy make-up...revealing themselves by segment's end...ripping off their made-up disguises to audience applause. Dick Clark usually hosted this segment.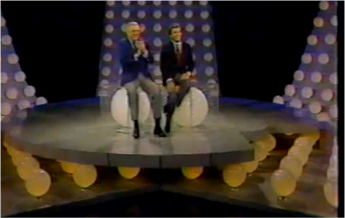 This sort of blooper program wasn't new but it hadn't been on mainstream television in years which helped the concept during the early '80s and it was a ratings hit each time NBC would air them. It became a weekly series in the mid '80s and then became a series of specials again as the 1990's dawned. The show, at one time, was also called
Super Bloopers and Practical Jokes
. The series continued to appear on the NBC schedule off and on...usually airing as mid-season filler programming whenever a show was canceled. Dick Clark took the show to ABC in 1998 and new blooper programs continued to air periodically through 2004...sometimes during rain delay's of baseball games on cable channel, TBS, a rerun of the show will air. Both Dick Clark and Johnny Carson produced the blooper programs...in other words, Dick Clark Productions and Carson Productions.
Still, after all of these assignments, Ed was also popular for the TV commercials he appeared in...Budweiser being one company he did commercials for...years later he did senior citizen commercials for Colonial Penn Life Insurance and he was the spokesman for Publisher's Clearing House for quite a number of years. Here is a TV commercial from 1963 featuring Ed, a pool table, and some beer that I found on You Tube...although Ed is 40 here, his voice sounds the same as it did at 50, 60, 70, etc., etc.
Ed's legacy should be remembered for all of the wonderful laughter and smiles he brought to the program's he was affiliated with. That's the way I, and I imagine, so many others will remember him. However, in some circles, his legacy will be a mixed bag given the troubles both physically and financially that he went through during his last years and the mild controversies he dealt with during his later years. A lot of the controversy comes from an audience who is unapologetic and cynical and view Ed McMahon in the same way you'd view a nobody. His impact, nor his popularity, does not phase some people out there who love to see celebrities suffer "like everyday folks do" and for some they loved reading about the financial woes Ed suffered in his final years.
So, keeping that in mind, you'll see two extreme's at play when people discuss the life AND career of Ed McMahon all over the internet. I am not saying his final years should be ignored...
but
some people out there want to highlight the controversies he had the last few years with the insurance companies. They don't want to discuss the overall picture...or the overall career. It's just as wrong to ignore the negatives as it is to ignore the positives...but on some web-sites and message boards all you're bound to see is one snippy remark after the other pertaining to his final years and not his life as a whole.
Brace yourselves.